by Cindie Ambar, certified Animal Reiki master and founder of Heartsong Animal Healing
With Covid restrictions easing, many of us are planning a much needed vacation! That said, worrying about your animal companion can take some of the fun out of your time away, so I am sharing a few tips to help make it as enjoyable as possible for all of you.
Fortunately, there are now many more places to stay that are "pet friendly" as well. That said, don't just take their word for it. Call and discuss well ahead of time so you are crystal clear about what that means and what the rules will be. Don't book anything until you have that information. Some facilities have breed restrictions and may not welcome your dog. Others may require proof of vaccination, etc.
Whether your animals are staying home or coming with you, please consider the following:
1.  Inform your animal about your upcoming departure.
You may not understand what they are saying, but they know exactly what we're saying AND thinking. They already know you are going somewhere, but just don't have all the details or may have the details incorrectly. Animals take time to process information, so be sure and let them know at least a week ahead of time. Be prepared to discuss the specifics of what is going to be happening. This includes where they will be staying, who will be caring for them, what their day will be like (is someone coming over in the evenings to feed and walk? will they be hiking with you during the day?), etc. Let them know exactly how long you will be gone, why you are leaving, etc.
2. Visit the boarding facility where they will be staying.
If your animal is going to be staying in a boarding facility or have a sitter, visiting the place they will be staying and getting familiar with it can be very helpful. You can also consider a trial run, boarding them overnight well ahead of time. If a sitter is coming, make sure they have an opportunity to meet your fur-babies at least once or twice before you go.
3. Make preparations for comfort items that can ease travel related stress.
If your animal is coming with you, bring a favorite blanket, toy, etc. For animals that will be staying at a sitter's or outside of your home, having something with your scent can be very comforting. You may also want to consider a calming flower essence. Five Flower Formula in glycerin, is a great overall essence for that purpose.
4. Make sure that your animal has plenty of activities to entertain them while you are away.
Whether you are together or not, enriching their environment will help keep them busy and less likely to get into trouble. Toys, puzzles, special areas for cats to climb and hide in are just a few examples.
5. Stay in touch with your animal companion while you are gone.
Each morning, let them know how many more days it will be until you are coming home. Get yourself grounded, sit for a bit, focus on breathing in and out from the heart and send them love. A little pre-planning and deliberately connecting will result in a happier vacation for all!
---
About the Author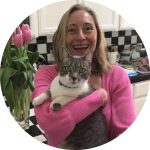 Cindie Ambar's motto is "Happier, Healthier Pets" and her life purpose is to bring joy, healing and transformation to animals and their human companions. She works with animals all over the
world via distance healing. Cindie is an animal communicator and healer living in California with her husband, Todd, and beloved cat Gabby.. She has 12 years of experience and is trained in more than 16 healing modalities. She has substantial expertise working with nervous and fearful animals. Because our animal companions are mirrors for us, Cindie also works with her clients human companions if they wish. Her website is HeartsongAnimalHealing.com.

For more information about Cindie Ambar, please click here.