by Samantha Henson, licensed Clinical Pet Nutritionist and founder of Next Generation Pet Wellness​
Everyone needs a sweet (or savory) way to beat the heat in June, including our pets! These recipes are as easy as they come, just snag a silicone ice cube tray and the ingredients and you're off to the races.
Sweet Option
Ingredients:
– 2 cups goat's milk
– 1 cup frozen mixed berries
– 1 tsp cinnamon
– Drizzle of honey (local preferred)
Instructions:
1.  Blend all ingredients (except for the honey) together and pour into silicone ice cube trays
2.  Melt the honey and drizzle evenly onto each section
3.  Freeze and feed one per 25 pounds of dog per day
Savory Option
– 2 cups pet-safe bone broth
– 1 cup chopped cooked chicken (or any other meat)
– 1 tbsp chopped parsley
Instructions:
1.  Stir the chicken and parsley into the bone broth and pour into silicone ice cube tray
2.  Freeze and feed one per 25 pounds of dog per day
Benefits:
Goat Milk: Gut health superstar! Goat milk is loaded with probiotics that not only help support your dog's digestion but their immune system as well.
Mixed Berries: Berries like blueberries, strawberries, and raspberries are all low-sugar fruits that are teeming with antioxidants for immune support and free radical fighting.
Cinnamon: An anti-inflammatory and anti-bacterial spice great for pain relief, relaxing muscles, and regulating blood sugar.
Local Honey: Buy some local honey at your farmers market for a nutritional boost and even seasonal allergy helper for your dog. Honey has loads of vitamins, minerals, and antioxidants to boost!
Bone Broth: Pet-safe bone broth (no onions, leeks, or added sodium) is a wonderful way to hydrate your dog and provide health benefits like reduced inflammation! This can usually be purchased at your local pet store in the freezers or easily made at home.
Cooked Chicken: Lean muscle building, packed with protein and flavor that dogs love. Adding this in chunks gives them something to work for.
Parsley: Absolutely loaded with vitamins and minerals and helps freshen breath all the way to the gum line.
---
About the Author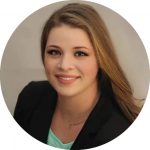 Samantha has spent the last 12 years dedicating her life to the health and wellness of animals. She has helped well over 1,500 cats and dogs live their happiest and healthiest lives through proper, biologically appropriate nutrition, supplementation, and exercise. She gives pet owners the tools and education they need to help their furry family members. She started Next Generation Pet Wellness as a way for people to get unbiased information about pet nutrition.