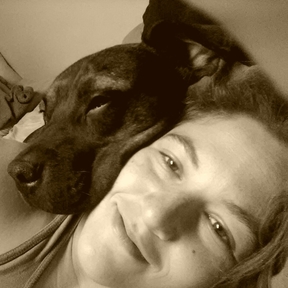 Becky Hahn
Dewey Ave, St. Louis, MO 63116, USA
40 y/o former teacher, currently a trainer at a large local rescue as well as in private or small group sessions for manners (3 to 5 dogs max). I do my best work one-on-one with shy, fearful, feral or former "streeties" who simply need to learn the rules of a new living environment after rescue, but setting puppies up to be their family's new best friend is pretty fun too. I'm originally from Ohio and have a bachelor's in technical theater. "The Plan" was to teach high school or university level dramatic arts. Funny how plans change, but still stay the same.
While living in western NY State I joined an AKC Club and spent more time than I'd ever planned to spend learning not just the (now) 197 AKC accepted breeds, but the history behind many of those types and how those in-born behaviors shape behaviors in modern mixed breed, working, and pet dogs. My favorite breeds are the Leonberger, the Rottweiler, the Bernese Mountain Dog, the Great Pyrenees (Yes, I like big Mutts, and I cannot lie!), the Staffordshire Terrier, the Greyhound, the Standard Poodle, the Staffordshire Bull Terrier, the Boston Terrier, the Italian Greyhound, the Cavalier/King Charles Spaniel, and the Papillon. In spite of a very near miss with one as a child, Dobermans are also quickly climbing the list.
I'm not the person you want to talk to if you think the guys you see on TV are what this business is all about.
I am not the person you want to talk to if you want to be able to literally push a button and take the free will and personality out of a dog to feel powerful and "in control".
If you think a dog should only do what the human says, when the human says to, because the human says to, we're going to need to take some time to chat, and I hope you like reading!
I am the kind of person you want to talk to if you've been left out of the training process before and your relationship with your dog is still suffering because of it. I am the kind of person you want to talk to if you simply "can't be alpha enough" to "properly dominate" your dog-- the good news is, that's not a real concept that applies to dog training. I can and will be happy to teach you what your dog wants you to know about how to teach them what you want them to do when.
If you want to understand your dog's behavior better and learn how to adapt it to your family's needs, please reach out! If you're willing to learn, I'm willing to share, guide, and help!