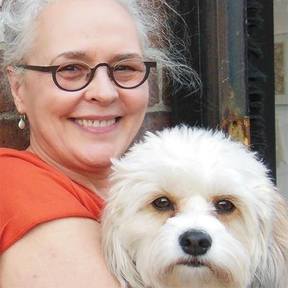 Bebe Beard
Boston, Massachusetts, 02210
When I retired from teaching college art courses I needed to do something different. I soon realized that I feel true joy being with dogs. Whenever I walk with my own dog Beignet, I could see the number of dogs growing in my South Boston neighborhood of Fort Point. After some research and hard thinking, I put together a plan to open a pet care business to become the best dog walker in the Fort Point/Seaport District.
I came to love dogs at about the same time I learned to walk. My parents had a pair of Cocker Spaniel sisters named Angel and Holly. With very little prompting my Mom would tell stories about how I would crawl after them chasing the ball or stand up "woofing" out the window. Then, when I was in upper elementary school Gretel the German Shepard was part of our family. Gretel was an all-black Shepard and her coat shown blue-black in the sun. She was gentle and very even-tempered. Her demeanor taught me that tall or small, most dogs just want to please us. She had two litters of pups that I have such fond memories of. Watching them grow through from the neonatal stage to weaning eight weeks later was an amazing experience I have never forgotten.
Today my dog Beignet is my little white shadow and she is a hypo-allergenic Cavachon. Her Dad was a Cavalier King Charles and her Mom a Bichon and she is my little baby. I make her special dehydrated liver treats and wet food with vegetables a variety of protein sources. Every night before we go to bed I brush her coat and brush her teeth. She is more interested in eating the toothpaste but that's ok - our veterinarian says we are doing a great job with her teeth. I just love her to pieces!