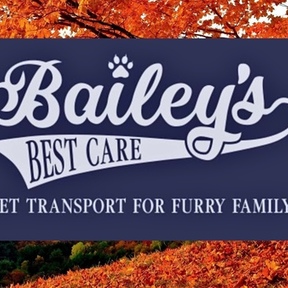 Shaun Bailey
221 County Road 3078
Thank you for considering Bailey's Best Care!
At the heart of things, we are a family owned business, with a personal touch, that has been blessed to grow large enough to service all your pet transport needs. We deliver furry families anywhere coast to coast, heart to heart!
Our team of professional drivers, along with a dedicated support staff, work hard to ensure your pet relocation experience is an easy, convenient process from start to finish. We are a USDA licensed company that is insured specifically for ground pet transport. We have successfully completed over 3,000 deliveries. We are happy to serve individuals, but love to form long-term relationships with our breeders. Based centrally in Arkansas, we currently provide service for breeders in almost every state.
Unlike the majority of pet transporters, we have multiple vehicles on the road at all times and can almost always pick up within a week of booking. While many pet transporters attempt to carry the entire workload themselves, our drivers are free to focus on driving safely, caring for your animal, and communicating with our customers. They are fully supported with a committed staff in our central office. Our prices are competitive, our service is proven, and our goal is nothing short of providing the best service in the industry.