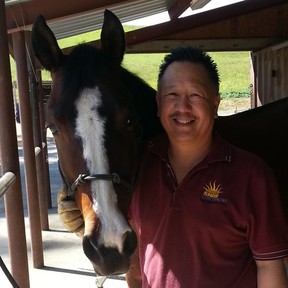 Gary Wong
Dr, Gary Wong has been around animals all his life from helping his mother breed, raise and show German Shepherds to having his own assorted dogs, birds, hamsters, guinea pigs and fish. He loves animals and learned early on that while they are a joy to be around and give you an unconditional love they like all living things eventually get health related issues.
While in chiropractic school he saw some chiropractors manually adjusting animals with structural spine problems and noticed that they did remarkedly well and healed quickly from structural issues that would have normally required surgery or had to be put down.
The down side was he did notice that in some cases the style of manual manipulation made the animals very uncomfortable and he saw one chiropractor get injured from a bite that took months to heal. That nearly convinced Dr. Gary that could be a career ending move if that were to happen to him. Years of schooling could be ended in a swift second.
It wasn't until years of being in chiropractic practice that Dr. Gary adopted Candy, a young 1-1/2 year old overweight yellow labrador retriever from one of his patients who could no longer care for her. Due to her weight issues she developed an issue with her knee. He knew from past experiences that this was going to be an expensive surgery and the outcome was not going to be favorable as it would eventually affect the whole structure and eventually create an issue with the other knee.
He thought to himself Wait! I am a chiropractor I fix human knees I could probably fix this one myself. He contacted Dr. William Inman who developed and taught Veterinary Orthopedic Manipulation. Dr. Inman said bring her to my class and I will teach you how to adjust animals and you can treat and heal your own dog.
That was a No Brainer! Help heal Candy and learn a skill in the process. Well Candy is 13 years old now and has never had to have knee or any other surgery and her spine moves better than most dogs more than half her age. She is healthy and happy and continues to have a pain free and active lifestyle.
Zara a German Shepherd dog who Dr. Gary also adopted was diagnosed with Mega Esophagus at about 7 weeks old. She had difficulty keeping her food down and would regurgitate back into her lungs. Usually most animals with Mega Esophagus do not survive well without a lot of care and careful monitoring of their eating habits and are put down. With VOM treatments and Cold Laser Therapy she is alive and well at the age of five. She still has Mega Esophagus but eats normally like any other dog. No signs of slowing down or lung issues.
Dr. Gary continues his work today working alongside local veterinarians to provide a safe alternative treatment for structural problems when deemed appropriate by the veterinarian and with his background in Applied Clinical Nutrition has helped changed the lives of hundreds of animals giving them the opportunity to live a more vibrant lifestyle and making life easier for the owners.
​
Dr. Gary's Story
Dr. Gary has been in private practice as a chiropractor since 1993 and has been personally trained in Veterinary Orthopedic Manipulation (VOM) by its creator William L. Inman, BS, DVM, CVCP.
Besides the basic 3 modules to become a VOM practitioner, Dr. Wong has completed all additional modules for a total of 6, presented multiple case files and taken and passed the Certified Veterinary Chiro Practitioner (CVCP) exam and is now a CVCP:
VOM Basic Theory and Canine Application
Advanced Applications and Procedures
Feline Application and Autonomic Disease
Somato-Visceral Disease and Myofascial Release
Equine Application VSV and VMR
Cold Laser Application in all Animals
​
Dr. Gary works as an affiliate to local veterinarians in the area. He does not diagnose as that is the role of the veterinarian.
Dr. Gary is brought in for consultation and if an animal can be helped by VOM and/or nutrition then that is discussed with the Veterinarian and if everyone is in agreement then treatment is initiated.