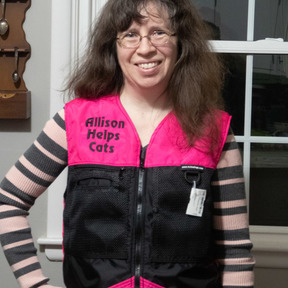 Allison Hunter-Frederick
Nebraska
For the past few years, my goal has been to people the knowledge and tools to give their pets better lives. I thought I could accomplish this solely through my writing, but life has a funny way of leading us down unexpected roads. The more I interacted as a blogger with cat owners, the more I discovered how much I loved problem-solving their cats' behavior issues. This led me to decide to take a more hands-on approach to helping owners and their cats by launching a local cat behavior consultant business.
In January of 2019, I took my first two steps towards becoming a cat behavior consultant. I enrolled in a Cat Behavior and Retention course. Then I applied the knowledge I learned by volunteering my services for a local cat shelter and an online cat behavior group. I enjoyed the elation of helping to restore peace to a few homes. For example, one owner had a kitten that liked to play bite. We talked about using redirects but also developing appropriate ways to play. Another owner had a kitten who kept chewing furniture, and I recommended cat chew treats. Then there was the owner whose cat woke him up late at night. We talked about ignoring the cat. Because the owner is away a lot during the day, I also suggested providing the cat with a puzzle toy.
In September 2019, I took a much bigger step towards becoming a cat behavior consultant. As a recipient of the Rebecca Parks Scholarship offered by the International Association of Animal Behavior Consultants, I graduated from a 12-week course called Animal Behavior Consulting Principles & Practice. There were weekly group mentor meetings via video conference, and a multi-week functional assessment assignment. The course immersed me in facets of animal behavior consulting that I had previously lack such as the science of learning and the practices of running a business. The course also connected me with numerous experts in the field. Finally, it gave me the courage to start doing home visits, behavior plans, and follow-up checks.
Since that time, I have taken many more classes and expanded my services. Most of all my calls at the onset were for aggression, and so I have taken many classes on introductions, healthy feline environments, and enrichment. Prior to the pandemic, I introduced Kitten Kindergarten classes to my region. Then in an attempt to meet the needs of clients during social isolation, I incorporated live cat chats to my business.
To know more about my passion, watch my interview on All Pet Voices: https://www.facebook.com/AllPetVoices/videos/260010155386818/