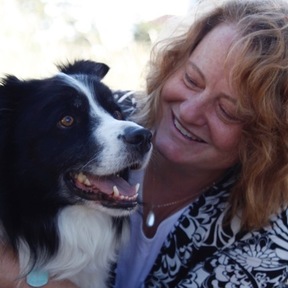 Alison Stanton
Boulder, Colorado
Pet Readings and Energy Healings with Animal Communicator Alison
The goal is to improve the relationship between animals and humans by increasing their communication. A one hour session over the phone or in person can answer so many questions about health, behavior or end of life decisions.
Alison Stanton is a Reverend of Psychic Healing and Healing for animals and people. A lifelong rebel, Alison wants to revolutionize how people communicate with animals. Alison founded Boulder Pet Psychic to offer readings, healings and training courses to teach tools to people who want to listen to animals as much as they talk to them.
A graduate of the Boulder Psychic Institute and Boulder Psychic Horizons Center Alison trained in healing, mediumship and spirit healing modalities.
With help from her dog Magic, Alison has practiced bridging the species communications gap with clarity and compassion. Alison connects with animal lovers who believe that we humans have evolved spiritually in relationship with animals, hearing what they have to say about the universe is enormously valuable
Learn about yourself from your animal. All of us have spiritual agreements with our animals that explain the learning work we are doing together and reveal if we have been together in past lives. Listening to your animal tell you how it sees YOU through the eyes of unconditional love enhances your own self-knowledge and self-love.
In Your Pet Reading ...
We may work on:
o Health Issues
o Behavior Challenges
o End of Life Decisions
o Shared Past Lives
So that you may:
o Feel relieved about decisions
o Draw up a contract with your pet
o Learn how you work together
o Know what to do next
VIDEOS: https://youtu.be/ohV30AA00hI
Testimonials
Before our session, I felt very uncomfortable and confused about making decisions about what to do for my sick dog. What Alison communicated made a lot of sense and I feel very validated, much more relaxed and things are coming into clarity. I have a better sense of where we are going and what's going on for him. That feels really, really relieving. -Carson
Alison not only helped us with very specific insights into the health and well-being of our cat, but also gave us a lot information that resonated deeply with us about the work our cat is doing in this life with other animals and also each member of our family. – Amy
Alison is a miracle worker. For 16 years, she looked over, cared for, and invested her goodness in our Golden-Cocker, Buddy. When Buddy was 18 and frail, she connected with him at a deep level. It comforted us to know that a trusted person could validate and hear Buddy's state of mind. Alison is a trusted soul who cares deeply and compassionately. She is gifted in bonding with and listening to pets. – Rajeev
Alison, I thank you! Whatever magic you did worked! Four days in a row my dog shredded the house when I was gone, and after our one hour phone healing session I came home to a clean, not-shredded house! He was so calm! I don't think it is a coincidence! – Karen